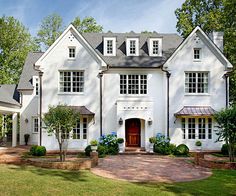 At home inspections, especially in and around Denver, we ask the inspectors to really take a good look at the roof. Often times, we even send out a third party roofer to do a double take for our clients. It's no secret that the roofs in our beautiful city can get pounded by serious hail and storms that come ripping off the Rocky Mountains. We get a lot of questions about roofs, durability and types, so I thought I'd share a few bits of information on roofing and types.
Let's start with terminology. What's a square? Roofers don't use the same terminology as the general public. They refer to the space coverage in terms of squares. One square is about 100 square feet in area or equivalent to a 10 X 10 foot square. Now that we have that down, let's take a look at 6 different types of roofs.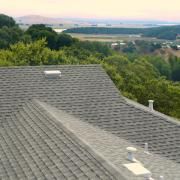 Composition Shingles
Composition Shingles are the most common of household roofs. They tend to mimic the look of slate and wood shake roofing. There are many different styles and color choices, which has increased it's popularity. It gives each homeowner a plethora of options to choose from, but at significant cost decrease compared to metal or other high-end materials. Composite shingles tend to last about 15 – 30 years.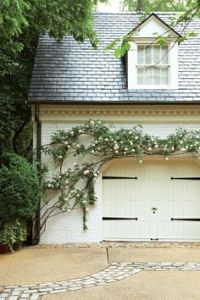 Slate Roof
Slate is used for some of the high end homes and municipal buildings in the Northeastern part of the US. It's a beautiful option for roofing material and tends to last for a very long time. Often, it out lasts the fasteners holding it into place. Slate is the most durable of roofing materials and tends to shed snow and ice easily. Since it's such a heavy material, the roof structure must be quite a bit beefier than normal to hold the weight. The bad news? Slate tends to start at $800/square leaving it as one of the least used roofing materials. Yikes!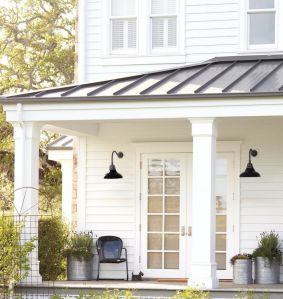 Metal Roof
Metal roofs come in a variety of different forms like galvanized sheets, corrugated or shingles. Some others come as seamed roofs. There are different kinds of metals like copper, aluminum or lead. Metal tends to be seen in different parts of the country as the standard feature of barns, sheds and other agricultural buildings. It's a rugged material, it's long lasting and easy to install. Much like slate, metal is good for snow country. Copper is the high end of the metal family. Metal starts at about $250/square, but oftentimes can be 2-3 times that expensive. The lifespan of a metal roof is around 50 years.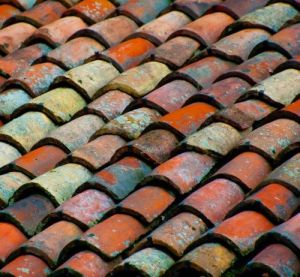 Ceramic
As you can see, ceramic is absolutely beautiful! It tends to be found in the Mediterranean, or in Mediterranean influenced homes in Florida and California. The barrel tiles (see to your right) is the standard and most commonly used style of ceramic tiles. They are very heavy and installing them is incredibly labor intensive. They tend to last about 60 – 80 years, but they are very expensive. How so? They cost about $1,000/square (or 3X the cost of standard 3 tab shingle). Whew… now that's expensive.
Asphalt Shingles
Asphalt is a very commonly used roofing product. It requires a minimum skill to install. It's made of a fiber glass medium that's been impregnated with asphalt and then given a surface of sand like granules. They are one of the least expensive options, but incredibly common. They come in two varieties: standard shingle thickness variety (or thicker) or laminated products. They are guaranteed to last about 20 years. You can always upgrade to architectural shingles which give about an additional 10 years to the life of the roof. They are twice as thick as normal shingles and some styles can resemble slate and others wood shakes.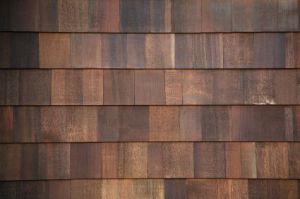 Wood Shingles and Shakes
Wood is a great option if you don't live in an area that is prone to fires. There are many cities that will have prohibit the use of wood shingles and shakes. There are a variety of wood options. Some examples are cedar, redwood, southern pine, western red cedar, or alaskan yellow cedar. Shingles are smooth and cut to a uniform thickness. Shakes on the other hand are thicker and rougher. A wood roof is made to breathe. Therefore it should be laid over a substrate that allows air to circulate behind the wood. Shingles and shakes do require periodic maintenance to remove mildew or moss. Once it's free from these you must re-oil with a clear wood finishing. Wood roofs tend to last about 30 – 50 years. Wood tends to cost about 2X as much as asphalt.
All pictures were taken from Pintrest. Click each one to see its original source.