We Have an App for That!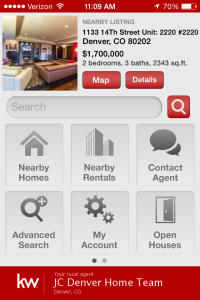 If you are thinking about buying a home, in the process of buying a home, or just curious about what's available you've probably searched so many sites you can't keep 'em straight! Many of them require you to create an account, which means you then get email after email after email. It's overwhelming I get it. Plus, if you have ever been to an open house, most likely you are now getting some kind of email updates from that agent or agents. Well, it's time to STOP the madness! Want to know how?
We have an app for that! So, Keller Williams created an app. The best part – no account! The caveat is if you want to save a property as a favorite, it'll make you create an account so that you can view the favorite again. Despite this, the app is amazing. It's also available for your iPad and iPod.
First you can search near you. So, driving around and see a For Sale sign but don't want to write the address down or can't? Pull up the app and hit "Search Nearby". Tada! There's the house for you to view. This was fun when I went to San Francisco to visit my best friend. As we drove around downtown and admired the gorgeous traditional San Franciscan homes we kept pulling up my app to see how much each house was and compare.
You can also run a standard search based upon your specific criteria. If you find a home you like, simply hit "Contact" and you can either call an agent to see the home or email for more information right from your phone. You can also share any listings you like by posting on Facebook, Twitter, emailing it to a friend or texting it to a friend. All just two clicks of a button.
So stop the madness! It's not necessary. Download our FREE app and start searching today. You can either visit our website to download or text KW1C0DGAT to 87778.